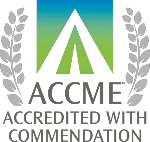 As a leading provider of unbiased, multimedia continuing education, Oakstone serves the medical and dental communities with a vast array of continuing education materials including recorded conferences, journal reviews and learning systems designed to help training and practicing doctors, nurses and dentists stay on top of their professions and prepare for board certification and recertification exams. Oakstone is an accredited provider of continuing nursing education by the American Nurses Credentialing Center and recognized by the ACCME with the highest accreditation rating for its physician programs, the Accreditation Council for Continuing Medical Education's (ACCME) six-year Accreditation with Commendation. In addition, we are an approved provider for dentists through the Academy of General Dentistry offering PACE programs for FAGD/MAGD and an ADA CERP Recognized Provider with the American Dental Association.
Oakstone produces accredited programs that attract training and practicing doctors, nurses, dentists and a variety of other health care providers seeking expert continuing education to build their knowledge, prepare for exams and improve patient care. Working with our partners, we create the highest quality, most comprehensive continuing education available for practitioners, in virtually all areas of health care.
Oakstone Partnerships with Academic Medical Centers
Organizations looking to create and market enduring CE materials gain exposure and reach beyond practitioners attending live events by collaborating with Oakstone. Oakstone is a recognized, established provider of certified, unbiased educational programming that generates increased revenue and broader market penetration for medical institutions. Oakstone pays all expenses for videotaping, editing, marketing, duplicating and fulfilling orders, enabling its partners to earn royalty revenue on each sale with no financial risk. Oakstone also provides opportunities for customization and private label CE services.
Joint Providership
Oakstone offers joint providership services for non-accredited educational providers that create their own medical and dental programs. Our ACCME six-year Accreditation with Commendation, ANCC accreditation, approved PACE Program Provider by the Academy of General Dentistry status, and recognition as a provider by the ADA allow Oakstone to offer services to accredit course content for AMA Category 1, contact hours, continuing dental education, and/or FAGD/MAGD credit.
Independent Medical Faculty
Individual medical faculty looking to create and market enduring CE materials in a specialty of their expertise can gain exposure and reach by collaborating with Oakstone. Oakstone works with independent faculty to create quality products based on their ideas for educational programming. Like all of our other productions, the end product will be high quality, unbiased CE developed through our sophisticated technological capabilities and supported by our turnkey marketing programs that distribute the materials to target markets throughout the United States.

As a top rated CE publisher, Oakstone is an ideal partner for nationally recognized institutions, organizations and independent faculty looking to provide CE credit for live conferences and enduring materials of the highest quality.
For more information on our partnership and accreditation services, contact: